This is not the fancy French dish, but it does have merit. It's fast, easy and tasty, the Pie Iron Way.
1 Hamburger Bun – toasted *
2 Slice of Chicken Lunchmeat
2 Slice of Cook Ham Lunchmeat
2 Slice of Swiss or Provolone Cheese
Dijon Mustard
Butter
* See Pie Iron Cooking Tips on how to toast a bun.
Lay Chicken Lunchmeat out flat, Lay Ham on top of Chicken and finish with Swiss Cheese. Roll up lunch meat. Place bottom bun on pie iron, add the 2 lunchmeat rolls on the bun. Add the desired amount of Dijon Mustard. Add the top bun, close the pie iron and latch. Heat the pie iron till it is warmed through and the cheese is melted.
For a southern touch, top the sandwich with a super thin slice of a Vidalia Onion and a Dill Pickle chip. Bon' Appetit.
Dan M.
Kannapolis, NC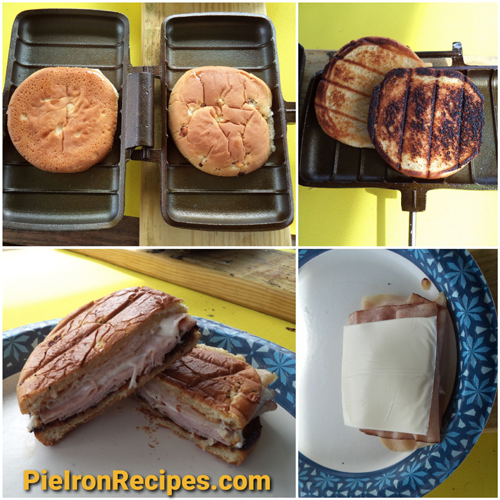 This pie iron recipe seems to be in everyone's pie iron recipe book. This is a big hit with our group and very easy to make.
Rye Bread – sliced
Butter
Corned Beef – sliced
Thousand Island Dressing
Sauerkraut – rinsed and drained
Swiss Cheese – sliced
Lightly spread softened butter on rye bread. Lay the rye bread on both sides of the pie iron. Add a few slices of corned beef and a small amount of thousand island dressing. Continue with a spoonful of sauerkraut and a slice of swiss cheese. Cook till the bread is toasted and the sandwich is warmed through. Be sure to rotate the pie iron every few minutes. Cook till it is Golden Brown.
Estimated cook time is about 4 – 6 minutes.
Bill B.
Middleburg Hts, OH