Do you own a set of Pie Irons? Are you just getting started in this fun hobby of  campfire cooking?
We have assembled a large selection of Pie Iron Recipes for you to try on a next camping trip or backyard cook out. With your help we can continue to grow.
Many of these recipes you have seen before and some you may have not. You may know these recipes by a different name. We encourage you to try them all and develop your own versions of these popular recipes or even come up with new ones. Each recipe has a comment section for you the add helpful hints or what you like or changed about each recipe.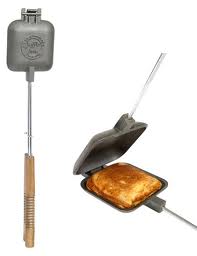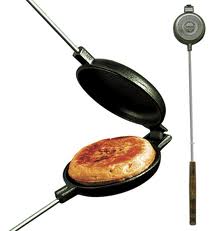 Do you have a talent for cooking? Especially outdoors while camping?
Please send us your favorite campfire recipes to be included in the Pie Iron Recipe Collection. We will include your Name and Location with each recipe. Please send along photos of your recipes or other images of outdoor cooking using pie irons for our NEW Photo Album.
We hope to make PieIronRecipes.com a Pie Iron and Outdoor Cooking Community.
Please write us about your outdoor adventures. We would love to read them, Can you Imagine your article on our website.
This recipe is similar to a Fluffer Nutter This is very sugary and sticky. This should cure anyone with a sweet tooth.
2 Slices of Bread
Cherry Preserves
Miniature Marshamallows
Chocolate Morsels
Butter
Butter the 2 slices of bread and insert into the pie iron halves. Spread a thin layer of cherry preserves on each slice of bread. Add the miniature marshamallows and chocolates morsels to one slice of bread in a checkerboard pattern leaving some space between them for melting and oozing. Close and latch the pie iron and heat it until its golden brown.
It should cook up in about 4 – 5 minutes a side. Watch Out, the filling will be HOT!
Brian O.
Columbia, SC
This Round Pie Iron Fruit Pie is So Easy and So Good. This could easily replace Store Bought Fruit Pies. Enjoy making them in your Pie Iron while sitting around the campfire.
1 box Refrigerated Pastry Crust (contains 2 crust) – cut out a little bigger than needed
1 small can of Pie Filling – Apple, Blackberry, Cherry
Butter Flavored Spray Oil
Water
Powdered Sugar (optional)
Milk (optional)
Lightly spray the insides of the pie iron halves. Lay the pie crust over the (round) pie iron halves. Tuck pie crust down into the iron halves leaving a bit hang over the edges. Spoon the pie filling into one half only. Do not over fill. Moisten the edges of the pie crust where it will join together when closed, this will help the pie crust stick for a better seal. Close the cooker and latch the handle. Trim the excess pie crust back around the iron. Set over the fire and cook till golden brown. Usually about 8 to 10 minutes, turning once.
Options: Put a small amount of powdered sugar in cup, add enough milk to make a thick syrup. Drizzle the syrup over pie in a zig zag pattern or lightly dust with powdered sugar.
DO NOT OPEN IMMEDIATELY after removing it from the fire. The pie is sealed and hot, it will release steam and / or pie filling causing a burn. Let the pie iron rest for a few minutes. You will be rewarded.
Dan M.
Kannapolis, NC