Do you own a set of Pie Irons? Are you just getting started in this fun hobby of  campfire cooking?
We have assembled a large selection of Pie Iron Recipes for you to try on a next camping trip or backyard cook out. With your help we can continue to grow.
Many of these recipes you have seen before and some you may have not. You may know these recipes by a different name. We encourage you to try them all and develop your own versions of these popular recipes or even come up with new ones. Each recipe has a comment section for you the add helpful hints or what you like or changed about each recipe.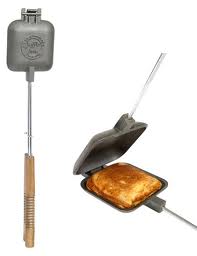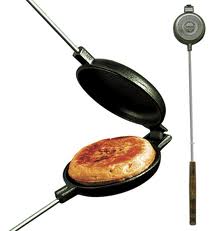 Do you have a talent for cooking? Especially outdoors while camping?
Please send us your favorite campfire recipes to be included in the Pie Iron Recipe Collection. We will include your Name and Location with each recipe. Please send along photos of your recipes or other images of outdoor cooking using pie irons for our NEW Photo Album.
We hope to make PieIronRecipes.com a Pie Iron and Outdoor Cooking Community.
Please write us about your outdoor adventures. We would love to read them, Can you Imagine your article on our website.
This is a favorite pie iron recipe as I enjoy South of the Border and Tex Mex recipes. This PIE IRON recipe will make more than 1 quesadilla. Adjust your ingredients to how many you are going to make.
Boneless Chicken Breast – precooked and shredded (Canned Chicken will work too)
Tortillas – small (6″ diameter)
Onion – minced
Green Pepper – minced (Bell Pepper, Poblano or Anaheim. Any of these are a good choice)
Monterey Jack Cheese – shredded
Adobo Seasoning – See Pie Iron Spices and Spice Blends
Jalapeno – sliced
Salsa
Vegetable Oil Spray
Spray the pie iron halves with oil. Tuck one tortilla into the pie iron making a cup. Fill the pie iron with the desired amount of the ingredients creating a mound. Place another tortilla on top. Close and latch crimping the tortillas together forming the Quesadilla. Trim the tortillas as needed forming a nice neat package. Hold over heat until golden brown.
Serve with salsa, sour cream and pickled jalapeno slices.
Remember, DO NOT over stuff the Quesadilla. The part of the tortilla that hangs over the edge needs to be clear of the stuffing so it will make a good seal when the pie iron is closed.
Dan M.
Kannapolis, NC
This Pie Iron Breakfast Sandwich is easy and quick. Since it uses a round English Muffin, we recommend using a round pie iron.
1 English muffin – cut in half
1 Egg – fried hard or poached (solid yolk)
1 slice American Cheese or Velveeta
Bacon , Canadian bacon or Ham Lunchmeat
Butter
* See Pie Iron Cooking Tips on how to toast a bun.
Cook the egg first in the round pie iron, so it will fit the muffin. Butter bun, reverse it, place in the the pie iron for toasting. Toast bun and set aside. Spray one half of the pie iron for frying an egg. Brown the ham in the other half. When the Canadian bacon and egg are finished set aside. Return bun back in pie iron, add egg, cheese and bacon. Close the pie iron & latch. Heat the camp breakfast muffin through and cheese starts to melt about 3 to 4 minutes.
Add a serving of Hash Browns for a full breakfast.
Dan M.
Kannapolis, NC