Everybody knows this one breakfast specialty. This is a favorite among campers and very easy to make.
2 Slices of Bread – slightly stale
1 Egg – beaten
1 tablespoon Milk
1 drop Vanilla
1 tiny pinch Cinnamon
1 tiny pinch Nutmeg
Whisk egg, milk and spices together. Spray the pie iron with vegetable oil. Dip bread slices into egg mixture and place bread on iron. Repeat with 2nd iron. Cook until brown. Top with syrup or fruit.
Close iron & latch. Trim excess bread, if needed. Cook until golden brown.
This is a very satisfying hearty breakfast.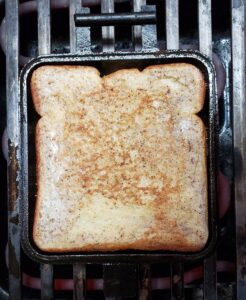 You might also like French Toast Breakfast Pie. Another version that is very good and messy. Place jam in center of bread and top with the second slice of bread.
Katherine M.
Kannapolis, NC