This quick breafast can be made in a single pie iron, use each half as a small skillet.
2 Sausage Links – pre cooked and crumbled
1 tablespoon Salsa
2 Eggs *
Cheddar Jack Cheese – shredded
Hot Sauce
Vegetable Oil
Cook sausage as needed in half a pie iron. In the other half, spray lightly with oil and heat the salsa to remove some of the liquid, add a * squeeze of egg, (do not over fill). As egg starts to cook up, add few pieces of crumbled sausage. Cook while stirring with an *icing knife until eggs are done. Top with cheese and a few drops of hot sauce.
* Scramble a dozen eggs at home, transport eggs in a sports squeeze bottle. Dispense what you need when you need it.
* An icing knife is similar to a butter knife, but bent like a spatula for getting around a cake. The roundness of the blade fits nicely into the concave edges and corners of a pie iron.
Add a few pieces of toast for a hearty filling breakfast any cowboy would enjoy.
Dan M.
Kannapolis, NC
Everybody knows this one breakfast specialty. This is a favorite among campers and very easy to make.
2 Slices of Bread – slightly stale
1 Egg – beaten
1 tablespoon Milk
1 drop Vanilla
1 tiny pinch Cinnamon
1 tiny pinch Nutmeg
Whisk egg, milk and spices together. Spray the pie iron with vegetable oil. Dip bread slices into egg mixture and place bread on iron. Repeat with 2nd iron. Cook until brown. Top with syrup or fruit.
Close iron & latch. Trim excess bread, if needed. Cook until golden brown.
This is a very satisfying hearty breakfast.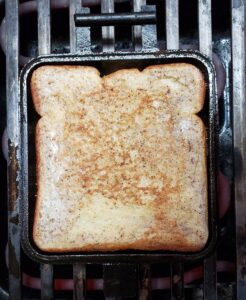 You might also like French Toast Breakfast Pie. Another version that is very good and messy. Place jam in center of bread and top with the second slice of bread.
Katherine M.
Kannapolis, NC